Many WordPress users have their list of favorite plugins and themes they use regularly. Installing those plugins and themes every time over and over can become tedious and time-consuming. Wouldn't it be great if you could install all your favorite plugins and themes with just a couple of clicks? Well, by using the WordPress Reset plugin, you actually can.
The WP Reset option that we will cover today is collections, a feature made primarily for bulk installation of a number of WordPress plugins and themes.
Creating a new collection is pretty simple, and you can create as many as you want. You just need to click the Add New Collection button, enter a name or description, and done; you have yourself a new collection.
Adding a new collection:
Once you make your collection, it will be empty by default. You can edit it, add new items, or install all items on the list once you add them. Adding items to a list is a pretty simple task. You just need to click on the "Add new plugin or theme" button in your selected list. You can add items from the WordPress repository using a slug or from your local source using zip.
Adding a new item in existing collection: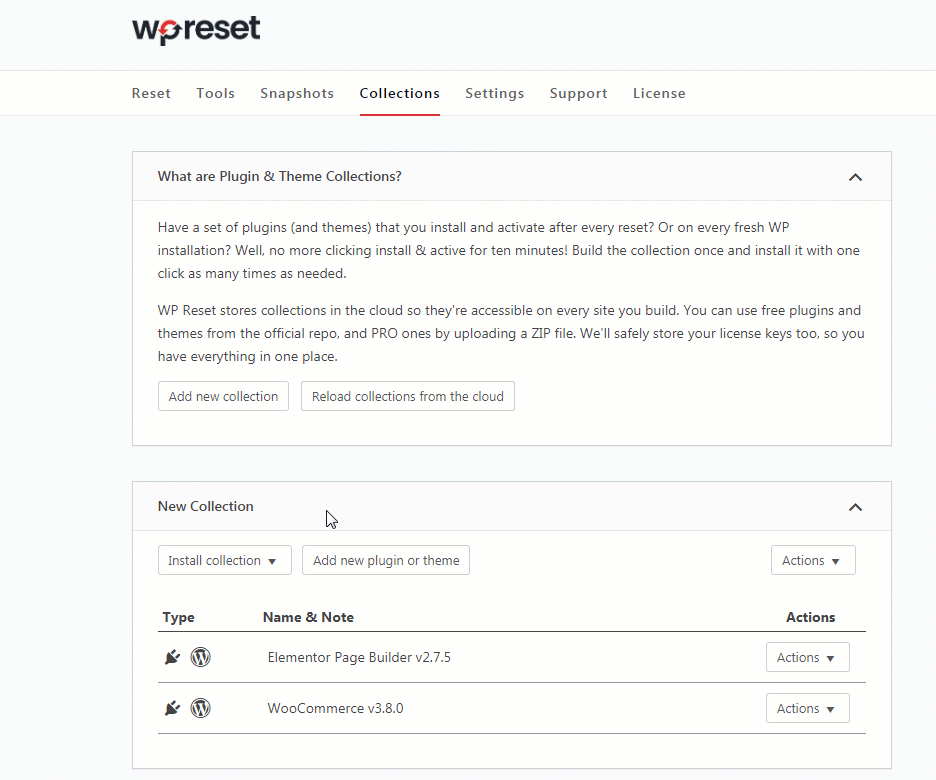 When you populate your collection with items you need, you can choose to install your collection and all the standard options like edit, clone, or delete.
If you want to install your collection, you will have a few options at your disposal. If you're going to install and activate all the items simultaneously, you can choose the "Install & activate collection" option in a drop-down menu.
Install & activate collection:
The second option, "Install collection", will install your collection but will not activate items in that collection. If you want to install your collection on a site that already has some themes and plugins installed, you can choose to remove them before your list installation. You still have the option to activate the collection if you prefer.
Delete installed plugins & themes, then install & activate collection:
The "Actions" drop-down menu offers you a list of basic editing options you can do on your collection, like adding a new collection, renaming the collection, or deleting the collection.
Rename collection:
Collection's tool offers you an option to save your collections on cloud services, including Google Drive, Dropbox, or pCloud. If you need to access your collections from the cloud storage, you can do that by clicking on the "Reload collections from the cloud" button, simple as that.
Reload collections from the cloud:
Conclusion:
WP Reset is an extremely powerful plugin. It offers a multitude of options for resetting your WordPress project to a beginning state or a previously created snapshot. Snapshots can be created manually or automatically by the plugin. Nuclear reset is another option on offer with which you can delete absolutely everything and go back to the beginning with just one click.
WP Reset is an irreplaceable tool for your WordPress site development.